I can remember the day I found out I was pregnant. Joy was my first emotion but panic soon filled me. Becoming a parent is a HUGE responsibility. Not to mention babies require a LOT! They don't say it takes a village for no reason. Here are some great ways to prepare for a baby…. while also saving money!!
Here are my 10 Baby Hacks to Save Money:
"This post is sponsored by Sivan Social. All comments and opinions are my own."
1. Try Amazon. It is fast shipping, with Amazon Prime, plus they have great deals on baby related items. Did I mention you can order from your home in your PJs with FREE shipping right to your door! No getting the baby in and out of your car or walking isles during nap time!
2. Shop Clearance sales! Buy a year in advance during sales and holiday clearances. I often buy winter clothes for next year. I store them in totes and bring them out when we need them.
3. Sign up for baby tracking stuff when you are pregnant! Companies often share info with other baby companies who send coupons and deals to your email.
4. Don't turn your nose up to off brands of food. Try Aldi's Baby snacks and their organic section. The prices are a lot cheaper and some are even tastier then the well known brands! If you have school age kids check out the Dollar store for lunch snacks. best part they are only a $1!!
5. Don't run your baby to the doctor at the first sign of a runny nose. If your baby is a fairly healthy child. Each mom knows her own baby. Take advantages of wellness visits and ask about other concerns at those appointments. That way it's 100% covered visit by insurance. Wellness visits can be moved up too! If you little one does have a runny nose and it is not going away just move your visit up. I am not saying don't bring your baby in if they have a serious condition or your gut is telling you something is wrong. I am a firm believer in going with your gut because again you know your baby!
6. Purchase used baby items. I often shop lawn sales and or Facebook Marketplace for items. Clothing AND toys are going to be out grown and or worn through fairly quick in the baby stages. Don't waste money if you can buy it used.
7. Take advantage of Baby registries! They often give you a coupon for the rest of the items that were not purchased (even Amazon gives a percent off)! It also really helps your family members buy what you need!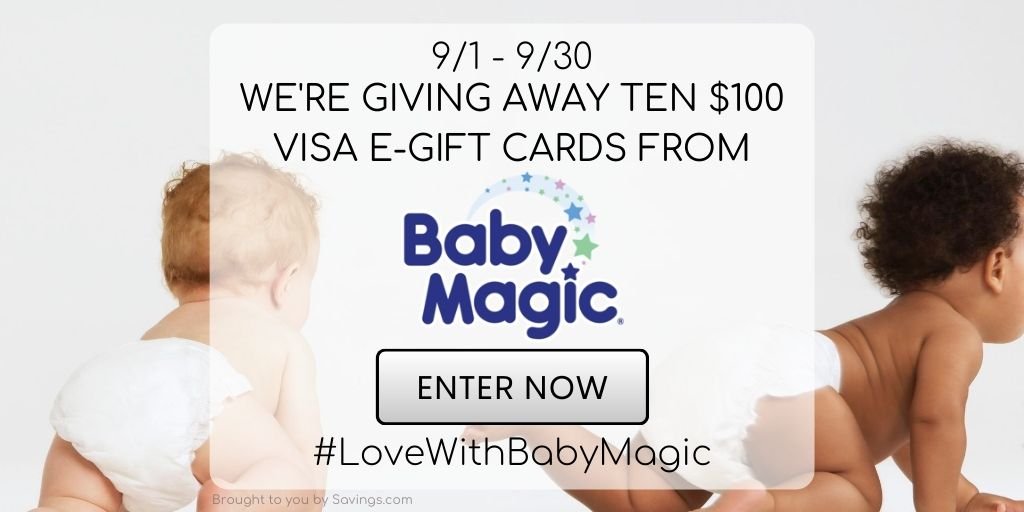 8. Enter giveaways! I can't tell you how many times I entered to win some baby products and actually WON. I happen to have one you can enter right now! Savings.com's is hosting a #LoveWithBabyMagic giveaway. You could win a $100 Visa e-gift card from Baby Magic, enter here!!
9. Return what you do not NEED. This might strike a cord with some but my son was very small when he was born. He was in preemie outfits until 3 months. When he finally grew he skipped right to 6 month clothing. I had so many unused outfits I simply exchanged and returned them to purchase things we needed.
10. Use coupons! When my son was little we used coupons for everything! You know what we saved so much money! I learned from him that it is a good practice to learn how to use coupons whenever possible. Not only did I have enough, we ended up donating a lot. Extra formula, wipes and other baby items we couldn't use went to our local Shelters all thanks to coupons.
Speaking of coupons, enjoy this $1 off any Baby Magic product!
Baby Magic nourishes your baby's skin with wholesome ingredients. Baby Magic has been loved by protective parents for over 65 years, including us! We have used it since my son was small! Dermatologist have recommended it for baby's delicate skin. Best part? It's also free of parabens, phthalates, sulfates & dyes!!
What baby hack to save money did I miss??